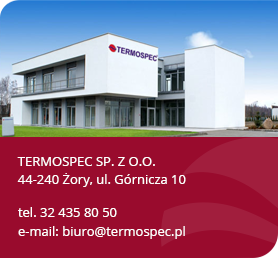 25 - 28.10.2017 | International Minig Trade Show "China Coal and Mining Expo 2017"
From 25 to 28 October 2017 we had the pleasure of presenting our most recent solutions in the scope of air-conditioning for underground minig and tunnels. We would like to thank our guests from all over the world for visiting our booth.

TERMOSPEC had also the honor to participate in the Promotion Seminar of Polish Mining Industry hosted by the Polish Embassy in Beijing, China and the possibility to present their solutions for the mining industry on the Far East markets.



27 - 29.09.2017 | 9. Mining Aerology Workshop
TERMOSPEC participated in the 9th Mining Aerology Workshop held in Białka Tatrzańska from 27 to 29 September 2017 and contributed with a paper "Analysis of heat transportation technology in shafts in central air-conditioning systems of underground mines".


16 - 19.11.2016 | International Mining Exhibition IMME 2016
TERMOSPEC employees visited the International Mining Exhibition IMME 2016 held in Kolkata, India form 16 to 19 November 2016.
11 - 13.10.2016 | International air-conditioning Exhibition Chillventa
From 11 to 13 October 2016 TERMOSPEC representatives visited the International trade fair for refrigeration, air-conditioning, ventilation and heat pumps in Nuremberg, Germany.
05.2016 | Lincense No. 4/2016/p for prospecting and identifying methane deposits from coal seams from around the "Anna" area.
07.2015 | TS-1200 for "Bogdanka" mine
Commissioning of TS-1200 cooling machine in "Bogdanka" mine, with cooling power of 1,2 MW.
06.2015 | Comissioning of second spraying chamber in KGHM O/ZG Rudna
In June 2015 TERMOSPEC commissioned the second set of spraying chambers in heavy machinery chamber in the C-14 department. The spraying chambers were designed and built on the order of KGHM O/ZG Rudna. The aim of the investment was improvement of the working environment in the department.
96 persons from science and industry world from Poland and Czech Republic took part in the Science and Training Conference "Selected ventilation and fire related issues in mines" organized by SITG GIG Katowice and sponsored by TERMOSPEC i AZIS Mining Service held in beautiful facilities of SPA Hotel Laskowo surrounded by charming Racibórz forests.
27.06.2014 | IMG PAN 60th Anniversary TERMOSPEC representatives had the honor to participate in the conference "Rock mass as an multiphase center – 60 years of The Strata Mechanics Research Institute of the Polish Academy of Sciences in the service of science and technology". The conference was held under the honorary auspice of the current Chairman of the PAS Prof. Michał Kleiber PhD, Eng.