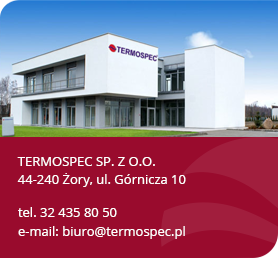 For the last 20 years TERMOSPEC has offered complex solutions for fighting temperature hazards in underground mines and tunnels.
Our offer includes production of cooling machines as well as design, maintenance and service of air-conditioning systems in underground mines and tunnels.
Long-standing experience, highly-qualified staff and cooperation with academic and research centers as well as underground mines followed by patents and academic publications contribute to constant development of the company and allows our specialists to solve the most complicated issues and react in advance to the ever-changing requirements in the scope of air-conditioning.
The production up-to-date of equipment with total cooling power of 250MW gives TERMOSPEC the leading position in Poland in the scope of cooling equipment for underground mining and construction. TERMOSPEC as the only one Polish company delivers complex air-conditioning solution to Chinese, Russian and Mexican mines.
In addition to the above we have been dynamically developing our activities in the scope of renewable energy.